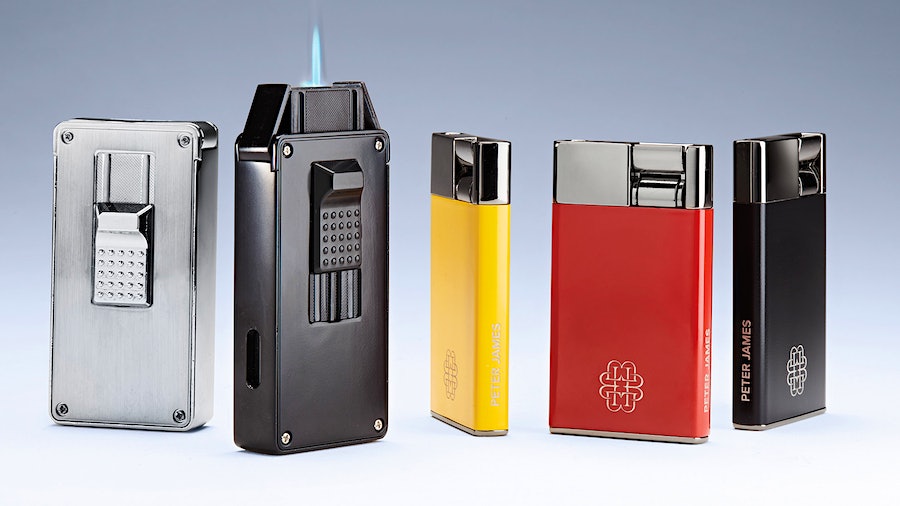 Peter James Lighters By David Savona | From The Real Guy Fieri, July/August 2023
The old adage that says "use the right tool for the job," applies just as well to cigars as it does to nails and screws. While you can ignite a cigar with many things, choosing the right lighter for your situation is key. The Canadian company Peter James, best known for its leather cigar organizers, addresses that problem with a pair of new lighters that service two quite different categories. Each has its own distinctive style.
Say you're heading out to a formal occasion, perhaps a wedding where cigars will follow the nuptials. Something big and chunky will make your pockets swell, so you should opt for a lighter that is slim and elegant. The understated Peter James Iconic Ultra Slim Torch Flame slips effortlessly into a pocket, as it measures only 1 ¾ inches wide, 2 ¾ inches tall and a mere third of an inch thick. It has the look of a box-pressed cigar, with squared-off edges, and feels sturdy in the hand. The minimalist design eschews the typical firing mechanism: instead of a position on the back of the lighter, the trigger is on the side. A narrow, but powerful flame shoots out from the top. The Ultra Slim strikes a good mid-range in terms of price at $60. The company says that's "a reflection of our need to find an accessory that was slim, sexy and very durable at a fair price, so that when we misplace our lighter we aren't sobbing over it." Available in black, yellow or red, each has a chromed look at the top.
In other scenarios—e.g. when perching a lighter on a golf cart or the table in your cigar room—you can go bigger. For that, Peter James recently released The Bar Single Flame Torch Lighter. Larger than the Ultra Slim, it boasts a gas tank with enough payload to fuel a big, powerful, single flame. The Bar ($90) comes in platinum, black and gold, but what we like best is its clever firing design: push up the center trigger and the interior mechanics of the lighter extend from the opening, reminiscent of the titular, double-jawed villain in the classic horror movie Alien. But don't be afraid—this lighter is a friend, not a foe.