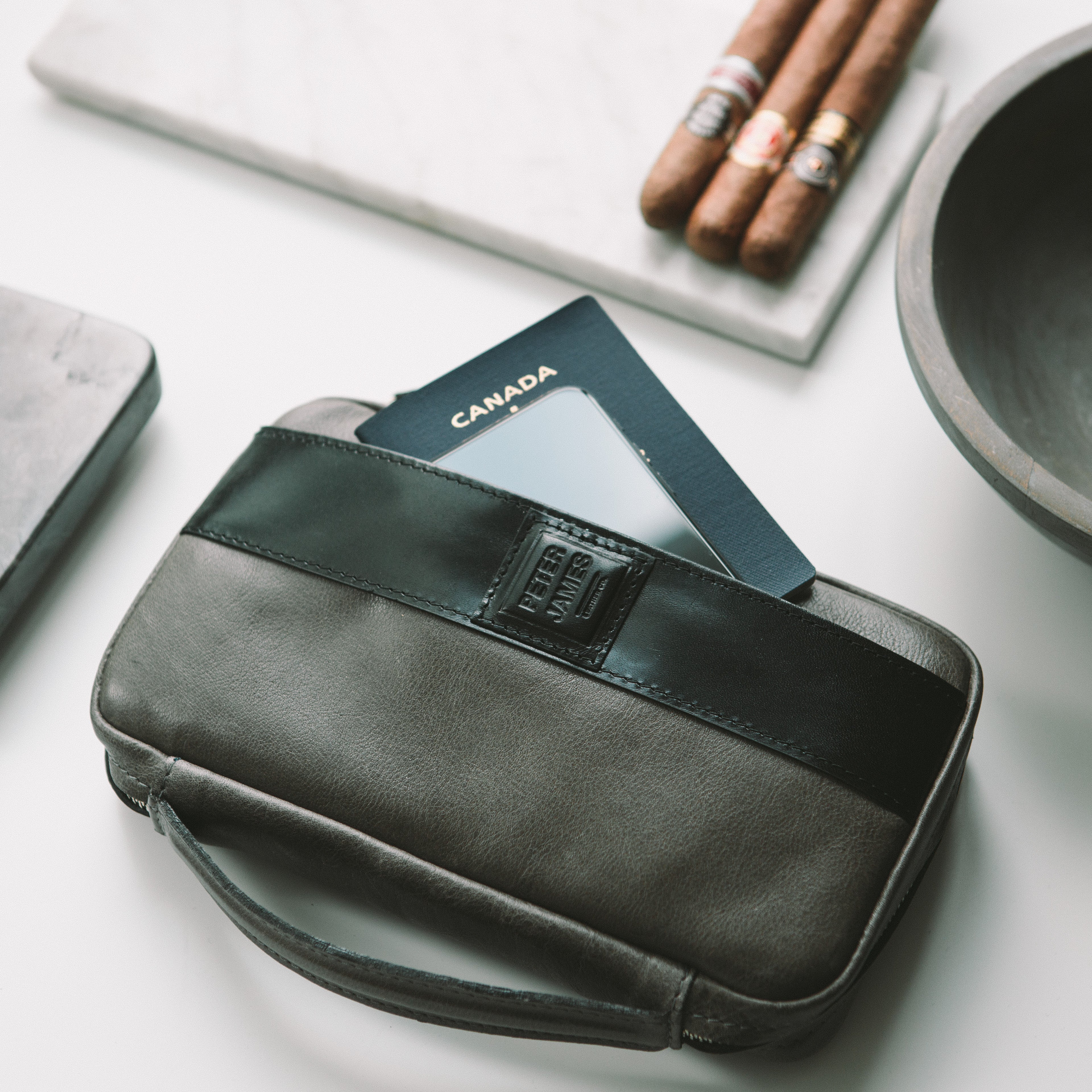 A CARRY ALL FOR A GENTLEMAN by P. Rogers
It's a common conundrum, you're heading to your favorite smoke spot and your pockets are packed with wallet, keys, lighter, cutter, cigar case. I'm pretty sure everyone has at one time or another thought about designing some sort of carry all, short of a murse (Murse = Man Purse). I was lucky enough to come across the new Aficiando Case by Peter James, with a tagline of "made by aficianados for aficiandos".  I was intrigued and pleased to encounter a sleek, simple, classy accessory that I felt comfortable taking out on the town. Might I add, empty pockets are a thing of beauty! 
At first look a couple things jump out at you. First, the leather is great quality, pebble grain and thick. The second is the zipper, heavy duty, not the cheap, flimsy type. 
Once you open the case there is a dedicated sleeve or pocket for every cigar accessory needed. There are two small, fold over pockets to hold a lighter, presumably S.T. Dupont (check out the blog next week for tips on spotting a fake one of these) and of course a cutter. It doesn't stop there...designated spots for a cigar rest (may we suggest a siesta by Custom Ash), pen, business and/or credit cards are all layed out in a thoughtful pattern.  Not to be forgotten, on the left an oversized fold over case lined with felt capable of holding even the largest ring gauge cigars. I had no doubt this case will keep my babies safe and sound. 
The seams and stitching are top notch and the case is thoughtfully arranged.  Clearly, the designer of this case is one of us, a true Brother of the Leaf.  As a nut for details, something interesting yet delightful popped out to me while familiarizing myself with this piece. The flaps are all hand cut!  Which means they are not perfect, there are small imperfections and unevenness. I must note the imperfections are barely visible, only noticeable to those of us who are slightly OCD.  I found the irregularities fantastic; proof that this product is made by a true craftsman, not mass-produced in China!
As I mentioned earlier there is truly nothing like this in the marketplace and the Aficiando Case fills that void nicely.  My adivce is go buy one of these before they're sold out. I guarantee you will find yourself wondering how you lived without it. The hardest decision you will have to make once you arrive at the site is color. They will even add a lighter, cutter and siesta for an additional charge! 
Peter James Co. you did a great job!
Source: https://purotrader.com/blog/34-a-carry-all-for-a-gentleman