Legacy Cigar Carry Case
Our top selling Castano gets reimagined and updated for its entry into our Everyday Carry Blue Collection. This instant classic keeps the tone-on-tone theme with its Veg tanned leather, adding a pop of contrasting blue leather detail to the underside of our pocket flaps and handle. Comfortably carrying up to six cigars with ring gauges reaching Gordo (sixty), your favorite color Peter James Iconic lighter, a cutter, and even a spare if needed.

Featuring an exquisite combination of genuine leathers, our Licorice, and Castano cases feature our premium Veg tanned and napa leather. These genuine leather hides area sophisticated natural oil pull up leather, with rich and infused colors. Its unique finishing classifies it as a more natural version of a patent leather. This type of non-corrected leather allows nature's markings such as scars, wrinkles, and colour variances to show and is considered as part of the natural beauty of a genuine leather product. Signs of wear will show, and a rich patina or shine will increase over time, providing a fit for any style.
Closed Dimensions- 9" L x 6" W x 1.5" D
Open Dimensions - 9" L x 12.5" W x 1.5" D
Cigar Pocket - 8.5" L x 4.5" W x 1" D
Cigar Pocket Capacity - 4-7, up to 60 gauge with a max. height of 8".
Lighter/Cutter Pockets – 3.5" L  x 2.5" W
Order Cancellations:

We completely get it, we change our minds too! While we wish could, once an order is placed, we are unable to alter or cancel it at this time. We hope to have a cancellation window one day in the future.


Can I exchange my product?

Shipping, Returns & Exchanges

We use all major carriers, and local courier partners. You'll be asked to select a delivery method during checkout.

Do you ship overseas?

Yes, we ship all over the world. Shipping costs will apply, and will be added at checkout.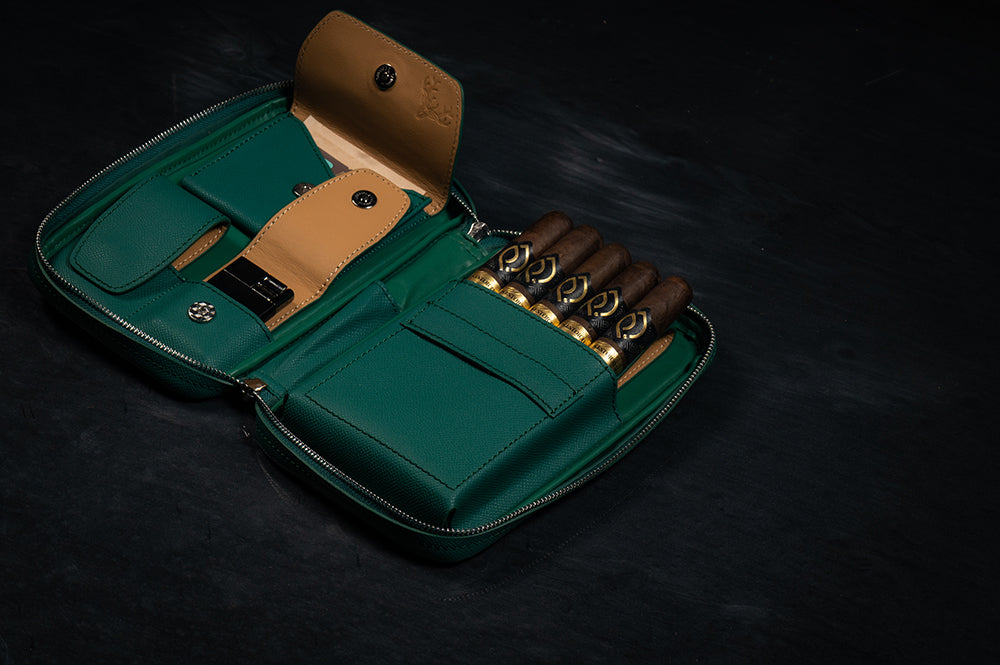 REFINED FINISHIES
As with our previous generations, our Blue Label Collection features premium quality, genuine veg tan and stamped calf leathers, a secured and reinforced cigar pocket with four additional pockets for all your accessories. Available at an incredible new price and coming  in 5 new, yet familiar, colour options, our new cases have been designed not only to look luxurious, but to function as expected, and will easily transition from casual
to formal while providing a safe, organized space, worthy of any occasion and your finest cigars.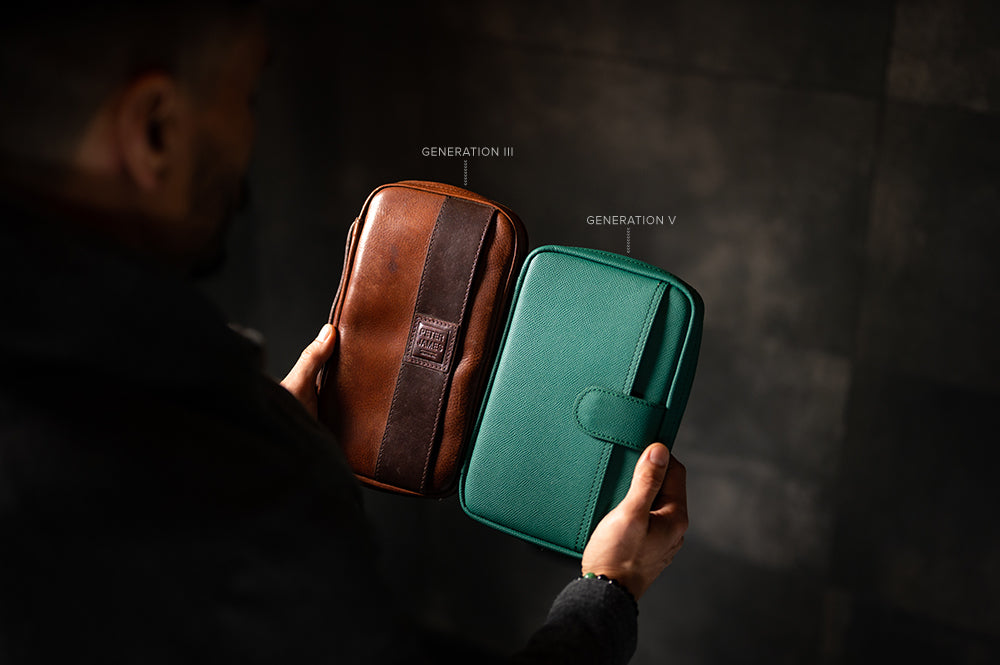 SLIM & SLEEK
From 2013, when we introduced the first ever luxury Cigar Organizer to market, we knew that although our products were innovative and industry leading, that there is always room for improvement.  Constantly listening to our customers wants and needs, our all new Gen V Blue Label Collection features our cleanest and slimmest design to date.