Black Label Cigar Carry Case
$900.00 USD
$1,050.00 USD
Certified Carry Humidor: The black label collection is first all leather, certified carry humidor. Tested in the Boveda lab at an exterior humidty factor of 30%, our case maintained humidity upward of 67% for an average of 49 days (with a 60g, 75% Boveda pack).

Handmade in Italy: To compliement the fucntional piece of the Black Label case, we knew it deserved to be crafted by only the most skilled experts. With an uncomplicated and sophisticated aesthetic, and each piece takes over sixty hours by hand to complete by artisans who each have a minimum of 40 years experience in leatherworking from a place renowned for its leatherowrking fashion culture, Italy.

Created by Mario Prada around 1913 using premium calfskin leather, Saffiano leather is strong and durable, a type of pressed, textured leather where a special stamping method is used to obtain the desired coarse, crosshatched pattern grain. With a beautiful glossy shine, it is the perfect choice for high-end leather accessories. Its hard, rigid composition makes it especially suitable for handbags and purses and due to the strong semi-glossy wax finish, Saffiano leather has superior water resistance and can withstand the scratches that naturally come with everyday use. Like the cherry on top, we completed this aesthetic with a prestigious lamb skin interior to add an elegant, soft finish to the piece.
Closed Dimensions- 9 ½ " L x 5 ½ " W x 1. ¾ " D
Open Dimensions – 9 ½ " L x 12 ½ " W x 1 ¼ " D
Cigar Pocket - 9" L x 5" W x 1" D
Cigar Pocket Capacity – fits 4-7 cigars, up to 60 gauge and 8" height.
Lighter/Cutter Pockets – 4" L x 2.5" W
Accessory/Card Pocket- 4" L x 5" W
Order Cancellations:

We completely get it, we change our minds too! While we wish could, once an order is placed, we are unable to alter or cancel it at this time. We hope to have a cancellation window one day in the future.


Can I exchange my product?

Shipping, Returns & Exchanges

We use all major carriers, and local courier partners. You'll be asked to select a delivery method during checkout.

Do you ship overseas?

Yes, we ship all over the world. Shipping costs will apply, and will be added at checkout.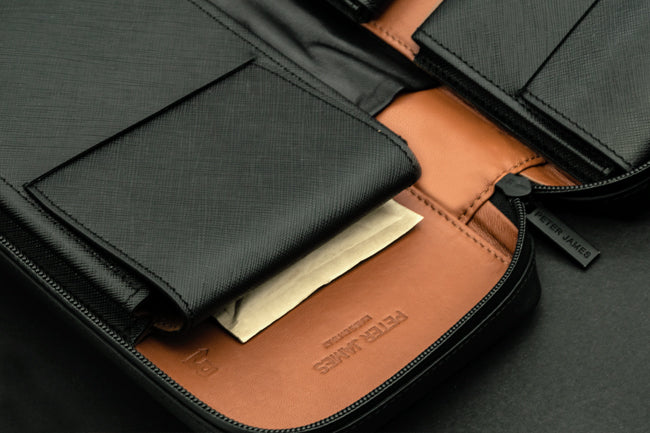 CERTIFIED HUMIDITY CONTROL
The Black label collection was tested by our friends at Boveda using their 60g, 75% RH pack in a room with an ambient relative humidity of ~40%.
The case steadily climbed into the 60's and held firm. We estimate that the 60g Boveda would last approximately 49 days while maintaining an RH% in the 60's.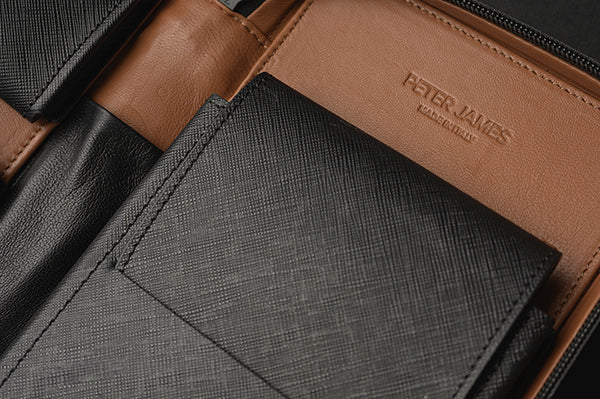 HANDCRAFTED IN ITALY
Designed by Peter James with over eighteen months of product development, our Black Label masterpiece deserved to be crafted by only the most skilled leather artisans. With a sophisticated aesthetic, each piece takes over sixty hours to handcraft by artisans who each have a minimum of 40 years experience in leatherworking.